Accops HyLabs
helps universities, educational institutes and L&D organizations create, manage and monitor virtualized ICT labs and provide real time access to the ICT enabled labs from any device, anywhere & anytime.
HyLabs automates provisioning, orchestration and curriculum-based access to ICT labs with the single goal of enabling self-service for faculty members and students. It gives HoDs and faculty members, the flexibility to deploy and manage labs on their own without any prior knowledge and training of the underlying infrastructure. At the same time, students get schedule-based access to existing physical labs or virtual labs from their home or campus, using their own devices. Virtualizing the ICT labs reduces operational cost for the institutes and enables real time, self-service enabled learning environment.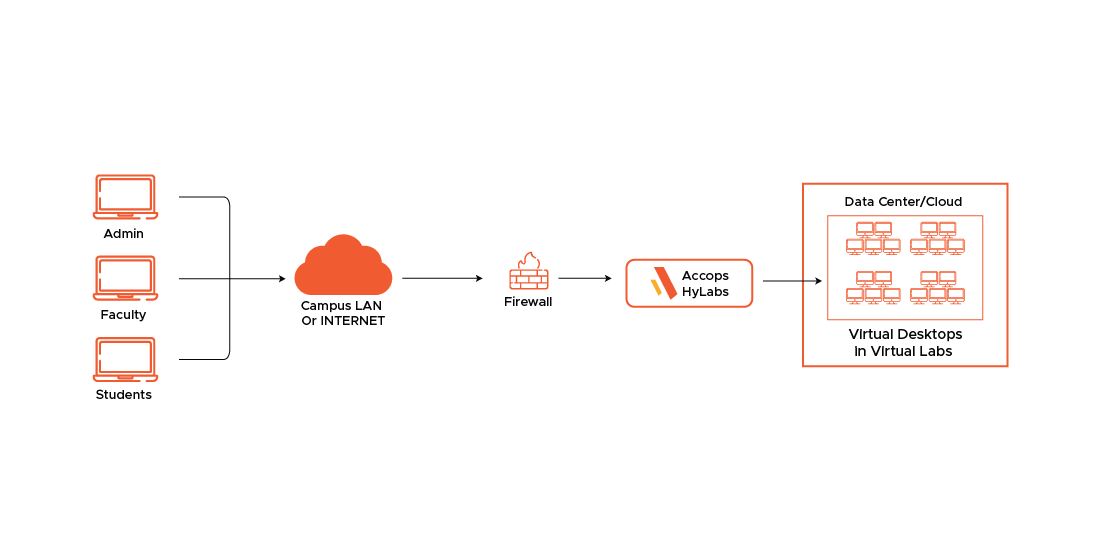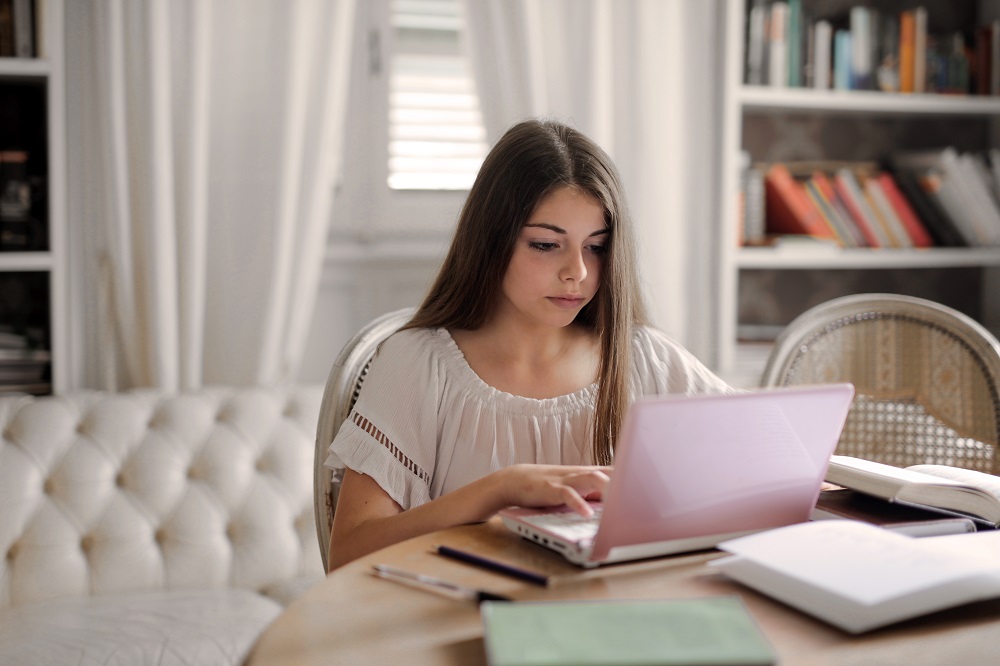 Enable study from home during pandemic

Enable students to have the same experience of accessing labs as during pre-Covid19 times, and provision them with all the tools necessary while accessing labs.

Enable self-study from anywhere

Students can study anytime with any device without travelling and can make their own reservation for ICT labs or generic lab machines.

Empower faculties

With a self-service enabled interface, faculties can make changes to labs on their own, including deploying new labs without requiring IT support.
Windows 10/8/7 based Personal Virtual Desktop
✔
Linux based Personal Virtual Desktop
✔
Linux based Shared/Pooled Hosted Desktops
✔
Remote access to physical PCs: dedicated/floating pool management
✔
Virtual Training Lab provisioning, management and access
✔
Support for flexible desktop pool deployment: Personal, Pooled, Floating, Fixed, Persistent, non-Persistent
✔
Support for Azure WVD with complete VM provisioning, power management, and monitoring for delivering virtual desktops.
✔
Support for dynamic power management with customized per day plan to save on Azure cost.
✔
VM provisioning automation using linked cloning function for VMWare vSphere
✔
Support for lab virtualization with time based scheduling of virtual desktops
✔
Application isolation using MSIX packages with efficient one click application delivery
✔
User profile management using FSLogix and UPD
✔
Accops Desktop client to access Virtual Desktop: Windows 7/8/10, macOS, Ubuntu 16 & higher, CentOS 7 & higher, Bharat OS, Windows 10 IoT
✔
Accops Integrated portal to access Virtual Desktop: Windows 7/8/10, macOS, Ubuntu 16 & higher, CentOS 7 & higher, Bharat OS, Windows 10 IoT
✔
Accops Workspace client for iOS & Android to access virtual desktops and Microsoft RDP based connections inside Accops container
✔
Clientless access to Virtual Desktops using HTML5 supported browser (HyLite)
✔
Support for eTokens for digital certificate signing on Windows or Linux based virtual desktops
✔
Built-in reports and support for external SIEM servers
✔
Customizable dashboard & reports with detailed event collection, email alerts and reports in email. (Needs additional license for Accops Reporting Server)
Add-on component
User Authentication Support: Microsoft Active Directory, LDAP, Novell e-Directory, Local Database
✔
MFA using OTP tokens (SMS, Email), Mobile App token, hardware token
✔
Contextual login and app access based on device Identity
✔
Time based access to resources with notifications to alert admin of expiring ACLs
✔
Integration with Accops Reporting Server
✔
Automated ICT lab provisioning & access based on university schedule
Self-service enabled machine provisioning, without any IT support
Reservation-based anytime access to labs
BYOD enabled, without any endpoint software requirement
Granular delegation to serve varied needs of departments
IMS-LMS integration available for integrated access
Deploy on-premise or on-cloud
Availability of learning analytics
Learn more about Accops HyLabs
Can the labs be run based on University schedule?
Is it possible to restrict faculty from making changes?
Which VDI platform is used by HyLabs?
Which Hypervisors are supported by HyLabs?
Can HyLabs be deployed on cloud and delivered as a service?
Can GPU based ICT labs be supported?
Does HyLabs support simulation of a physical non-ICT lab?